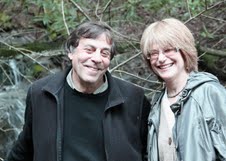 During almost all of my 40 years (yikes!) as a successful owner and manager of several businesses in Canada, (where I was born and lived for many years), friends, (and kids of friends), often arrived at my office to share and chat about the issues and problems they were facing in their personal lives. I never really thought about "why me?" But, instead of saying "look, I have a business to run", I took large chunks of time out of my business day,went out for a coffee, to be with them and listen.
The universe was clearly trying to point me towards the work I should be doing, but I reckon I wasn't ready to hear it – too busy!
It might be useful to mention at this point that every one of those forty years in business did not all go so smoothly. There were plenty of challenges (some real biggies), that I had to rise to and learn from, during my corporate and entrepreneurial careers.
My marriage of 45  years to my beloved Laura, and my relationship with our amazing daughter Julia, are the foundation on which I built my life. Once Julia was ready for college, Laura and I concluded that we'd endured enough Canadian winters. We decided to shake up our lives with new and different challenges and adventures, and after checking out many places,we kept being drawn to the Bay Area (something in the air? the water?). Anyway, here we are – and happy!
In order to unhook myself from my lifelong attachment to business as a career, I decided that I needed to deliberately put myself into that scary "I don't know what to do next" place. I spent a year volunteering in several Bay area non-profits (homeless, environmental) to see (and feel) what would come up for me. Somehow, coaching simply found me. I love and enjoy people. I don't judge them. They get that. Coaching just feels right.
I trained for a year at a wonderful school here in San Francisco called New Ventures West. The training was rigorous (code for "I worked my tail off"), meticulous, generous and loving. During that period I was likewise being coached on significant (pesky, scary) issues of my own: the biggie being my lifelong companion, namely, the "not good enough" gremlin – do you know that one? So…I have to say, I am right there with my clients, right there!!
I am committed to applying the life experience acquired in 40 years of business ownership and a loving, stable family life, together with my coaching training and experience, in the service of my clients as their constant and loving guide towards joyous, fulfilling lives which are genuinely their own.